"Autumn carries more gold in its pocket than all the other seasons."
by Jim Bishop (1907-1987)
journalist and author
Vermont has a long history of small, independent farms. From century to century, this land of steep hills and rocky soils has had to reinvent itself economically, using a limited range of resources. Farming has become an important contributor to Vermont's economy. Dairy farming and dairy products are the chief agricultural activity. Cheese makers produce an impressive variety of specialty cheeses that rank among the nation's finest. Likewise, Vermont is famous for producing maple syrup and maple sugar. It is the largest producer of maple syrup in the U.S. Potatoes are the leading vegetable while apples are the leading fruit.
Baking and stewing are two methods used extensively in food preparation.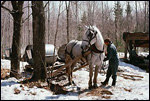 With that being said 'maple' seemed to be the buzz word. This ingredient is found in a variety of dishes on every menu. It even rivaled in numbers the amount of lobster items found on Maine's menus. I learned early on in the trip Maple Walnut Ice Cream was the sweet treat to be had.
Did you know Ben and Jerry's, an American ice cream company that manufactures ice cream, frozen yogurt, sorbet and ice cream novelty products is headquartered in Burlington,Vermont, with the main factory in Waterbury, Vermont? It is best known as a premium ice cream brand, founded in 1978 in Burlington, Vermont by Ben Cohen and Jerry Greenfield.
Ben and Jerry's iconic Cherry Garcia flavor has been unseated as the company's most popular U.S. ice cream flavor for the first time in a decade by Half Baked, according to a statement by the company. Cherry Garcia, named for Grateful Dead frontman Jerry Garcia, was introduced in 1987 and has been the most popular flavor for more than a decade. Flavored with cherries and chocolate flakes, it is one of the brand's simpler flavor combinations.

By contrast, Half Baked is a combination of Chocolate Chip Cookie Dough and Chocolate Fudge Brownie, two of the seller's most popular - and ingredient-laden - flavors.

Apple Pie and Maple Nut Ice Cream
Ingredients:
5 large tart apples such as Granny Smith, peeled and chopped into chunks.

3 TB. flour

2 TB. cinnamon

1 tsp. apple pie spice

3/4 cup sugar

1/4 tsp. butter

refrigerated pie crusts or prepare your own pie crust dough
Directions:
Preheat oven to 425 degrees

In a large bowl mix flour, sugar, cinnamon and apple pie spice.

Roll out one crust on a floured wax paper sheet and line the bottom of a pie pan with the dough.

Place apple mixture in pie pan and top with butter.

Add a top crust and crimp edges.

Using a pastry brush lightly brush top of the crust with milk.

Mix a little cinnamon with sugar and sprinkle on top of the crust.

With a sharp knife cut 4 vents into the dough top.

Usually at this point I would add foil strips around edges of pie pan to prevent over

browning but this time I used a new kitchen tool I received as a gift.

It is a metal piece called a

pie crust shield

that fits over the pie to prevent over browning. The shield is removed the last 10 minutes of cooking time.
Bake pie at 425 degrees for 15 minutes, then reduce temperature to 400 degrees for 35 minutes or until juices are bubbling inside the open vents.

Spinach Salad with Apple and Maple Vinaigrette
recipe adapted from Byerly and Lund's Cookbook
Maple-Cider Vinaigrette Ingredients:
3 TB. cider vinegar
1/4 cup pure maple syrup
1 tsp. apple pie spice
1/8 tsp. dry mustard
1/4 teaspoon kosher salt
1/4 teaspoon pepper
1/2 cup olive oil
Salad Ingredients:
1 small package fresh baby spinach or mixed greens
2 Gala or Honey Crisp apples, thinly sliced
1/2 small red onion, thinly sliced
3/4 cup dried cranberries or cherries
1 prepared package glazed pecans
1 (4-oz.) package crumbled goat cheese or Feta
Directions:
Vinaigrette: Whisk together cider vinegar and next 5 ingredients. Gradually whisk in oil until well blended.
Salad: Combine spinach and next 3 ingredients in a bowl. Drizzle with desired amount of Maple-Cider Vinaigrette; toss to coat. Sprinkle with pecans and goat cheese. Serve salad with any remaining vinaigrette.
Vinaigrette may be made up to 3 days ahead. Cover and chill until ready to serve.
Pork Chop with Maple and Pear Sauce
Cook's notes:Maple syrup and pears make an elegant side dish to the skillet-cooked chops in this 20-minute dinner. Recipe adapted from Midwest Living.
Ingredients
4 boneless pork loin chops, cut 3/4 inch thick (about 1 pound)
1/2 tsp.sea salt or salt
1/2 tsp. ground black pepper
1 TB. olive oil or Blood Orange Olive Oil
2 TB. butter
3 tablespoons pure maple syrup or maple-flavored syrup
3 tablespoons peach or apricot preserves
1/2 teaspoon dried basil or 1-1/2 tsp. snipped fresh basil
3 medium pears, cored and thinly sliced
Hot cooked couscous
Directions
Trim fat from pork. Sprinkle chops with salt and pepper. In a 10-inch skillet, heat oil over medium-high heat. Cook chops 8 to 12 minutes or till chops are done (160 degrees) and juices run clear, turning once.
Remove chops from skillet; cover to keep warm and set aside.
For sauce: In same skillet, melt butter over medium heat. Stir in maple syrup, peach preserves and basil. Add pears. Cook, covered, about 3 minutes or just till the pears are tender and heated through, occasionally spooning sauce over pears.
Place couscous in a mound in the center of 4 dinner plates. Top with a chop and spoon sauce over pork. Serves 4 servings.