Some of the week's best
Roasted Root Vegetables
Cook's notes: A healthy side dish that pairs well with a roast, roasted chicken or baked pork chops.
Ingredients:
A mixture of vegetables such as celery root, carrots, parsnips, rutabagas, sweet potatoes and red onion slices

One ripe pear

Balsamic vinegar
Directions:
Dice or slice all veggies the same size.
Slice one ripe pear.
Line a baking sheet with parchment paper.
Mix 2 TB. fresh thyme and 2 TB. fresh Rosemary or ½ tsp. dried thyme and1/2 tsp. dried Rosemary with 3 TB. olive oil
Toss veggies with olive oil/spice mixture
Arrange veggies in a single layer on baking sheet and drizzle with balsamic vinegar
Bake at 400 degrees for 30-35 minutes or until veggies are tender al dente. Be sure to stir mixture once halfway through the baking time.
Add in pear slices the last 10 minutes of cooking time.
Easy Ideas to Adapt Your Recipes reducing the fat but not the taste

For bread puddings and fruit breads:
Use this: Mini-muffin pans
Not that: Souffle or baking dishes
In puddings and pudding pie fillings:
Use this: 2% milk
Not that: Heavy cream
In fruit pies:
Use this: Half the sugar
Not that: All the sugar
For every cup of sugar you don't use, you'll save 744 calories. "It doesn't change the chemistry of the pie, so you can go as low in sugar as you'd like. In fact, a fruit pie's natural sweetness is often all you need."
In cookies and crusts:
Use this: Half whole-wheat pastry flour and half all-purpose flour
Not that: Just all-purpose flour
Whole wheat has 12 grams of filling fiber in every cup, and your guests probably won't notice the difference.
In brownies, chocolate cake, and fudge:
Use this: Three tablespoons of cocoa powder
Not that: One ounce of baking chocolate
Substituting cocoa powder peels off 85 calories and 13 grams of fat.
In cheesecake:
Use this: Part-skim ricotta cheese
Not that: Cream cheese
You'll double the amount of hunger-fighting protein and cut the fat by close to 60 grams for each cup you use. "It's much less heavy and caloric than cream cheese," Gans says.
In brownies, cakey cookies, and fruit breads:
Use this: Pureed pumpkin
Not that: Oil
Pumpkin puree keeps baked goods deliciously moist, and for every half-cup you sub out, you'll save more than 900 calories and 100 grams of fat.
French Choucroute Garnie
Cook's notes: Choucroute garnie is French for dressed sauerkraut. It is a famous Alsatian recipe for preparing sauerkraut with sausages, other salted meats and potatoes. Families in Alsace generally eat choucroute garnie during the wintertime, because it's such a hearty, filling dish. So put this dish on your list of recipes to try some winter's evening.
If you are not a huge fan of sauerkraut it can be omitted. The aromas from this dish while it cooks are amazing. You will not be disappointed with the flavor.
Adapted from BHG serves 8-10
Ingredients:
1 TB olive oil
1 medium red onion, diced about 1-1/2 cups
3 garlic cloves, minced
1-12 oz. bottle of beer or ale (I cut back to 3/4 of the can/bottle )
1-1/2 cups apple juice
3 TB. cornstarch
2 TB. brown mustard
1 TB.caraway seeds
1 tsp. dried rosemary
1/8 tsp. cracked pepper
12 oz.red potatoes peeled and cubed (around 6-8)
1-1/2 cup sliced carrots
3 pork chops- cut up into chunks
7 oz. (half a package) smoked kielbasa
2 medium Granny Smith apples peeled and cut into chunks
1/2-1 tsp. Herbes de Provence
1 small can sauerkraut, drained, rinsed and squeezed dry
Directions:
In a pan cover potatoes and carrots with water and cook covered 15 minutes or until tender but still firm, drain.

In small fry pan heat olive oil and fry garlic with onions about 3 minutes.

Mix cornstarch with 1/2 cup apple juice.

In a large saucepan add 3/4 to 1 can or bottle of the ale, apple juice and apple juice mixed with cornstarch, mustard, caraway seeds, rosemary, pepper and sauteed onion and garlic. Cook on

low heat until slightly thickened and bubbly.

In a casserole dish layer cut meat, onions/garlic, apple chunks and potato/carrot mixture. Pour apple juice/ale mixture over top. Sprinkle with Herbes de Provence.

Warmed sauerkraut can be added right before serving as a side dish or added in with meat and potatoes before cooking.

Bake covered with foil for 35-40 minutes.There will be a lot of juice so use a slotted spoon to serve.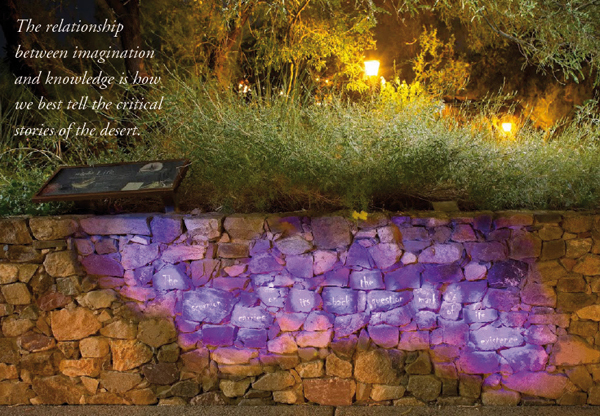 Blacklight Scorpion Poem by Alberto Ríos, photo by Rhonda Spencer
This picture was taken today in Tubac, AZ mid afternoon. I was a bit awestruck noticing the diffusion of light in the sky behind the mountain contrasting it against the starkness of the desert landscape.